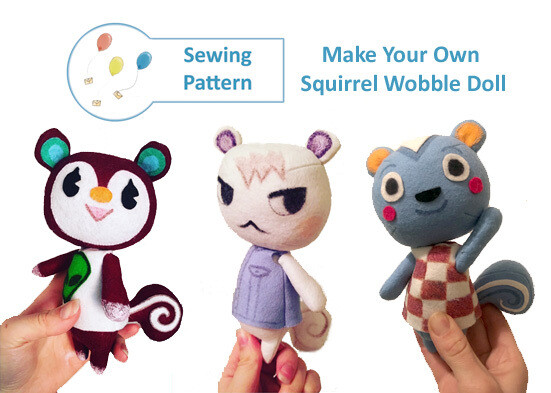 Squirrel Wobble Doll Sewing Pattern
SKU 00031
Product Details
A4 SIZED PATTERN ONLY
This is a sewing pattern for a sweet little Squirrel. He is about 15cm/6" tall and can be made in less than a day, with the help of a sewing machine! You can watch me making wobble dolls on my YouTube channel at
https://www.youtube.com/channel/UC1-nSdAvM4orZg6Wq...
to judge the difficulty level for yourself.
Please note that this is a pattern for you to make, it does not include any equipment or a finished article. Suppies needed are listed in the images and links to suggested suppliers are included in the instruction booklet. I have included modification instructions for making Marshal from the Animal Crossing series, but of course this parttern is designed for you to create any character you like!
If you have a sewing machine then this pattern can be made using a small running straight stitch. It's not the end of the world if you don't have access to one, but they do make things look neater. I would advise you to always hand sew with extra strong thread and check my website at
www.je-suis-lugly.com
for a bear-making tutorial book which describes how to complete both back and ladder stitches (YouTube is also a great place to learn).
I would recommend these patterns for advanced or adventurous beginners. Please feel free to message me for help with the patterns.
Save this product for later